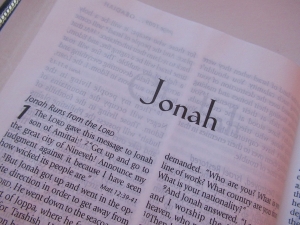 An Old Testament character that fascinates me is the prophet Jonah.  In many ways, he's not a particularly likeable character and probably not someone on whom you would want to model your life.  Nevertheless, the story of God's dealings with him throughout the book that bears his name is fascinating in that it reveals not just the self-focused heart of the prophet, but the sinner-focused heart of the God whom he served.
God's generosity throughout this book is truly outrageous.  He is overwhelmingly patient with His rebellious prophet, both before and after Jonah reluctantly embarks on a preaching assignment; He reveals Himself through His awesome power to terrified sailors, who, it seems, respond to Him in worship; and He pours His compassion on the inhabitants of a godless city when they turn to Him in belief and repentance.  God's outrageous generosity in all these incidents is nothing less than gracious generosity.  After all, even generosity that's over the top might sometimes be earned or deserved by its recipients, whereas the essence of grace is that it can never be earned and it is always undeserved.  That's what makes God's generosity so outrageous.
Reading through the book of Jonah, we discover that God's gracious generosity to the people of Nineveh is truly staggering.  Historical sources reveal that, during the time   of Jonah, Nineveh was notorious as a city where all manner of evil flourished. But despite this, the king – along with all those living in that great city – received the compassion and forgiveness of God.  They received grace, which meant they got the forgiveness they didn't deserve, and mercy, which meant they didn't get the judgement they did deserve.  This outrageous generosity of God was evident as soon as the Ninevites believed and repented by making a U-turn towards Him.  And, all things being equal, they wouldn't have done this had Jonah not preached a message of impending judgement to them.  You might think that Jonah would have been absolutely thrilled with the outcome of his preaching!
But this successful preacher, who had previously been so reluctant to bring God's message to the people of Nineveh, was seriously miffed and responded angrily to God's gracious generosity.  Jonah's anger became turned in on himself and he demonstrated 'retroflexed rage'.  His internalised anger made him depressed enough to want to die.  He then became angry over a withered plant.  While Jonah lashed out in anger, God poured out His compassion on a repentant people and a rebellious prophet.  The people of Nineveh and the prophet of God couldn't have been more different but, despite this, there was one area of similarity between them – they were all undeserving of God's magnanimity.  It's the same today in that not one of us is worthy to receive any blessing from God at all, yet He still dispenses it on those whom He chooses.  That's grace.  That's outrageous generosity.