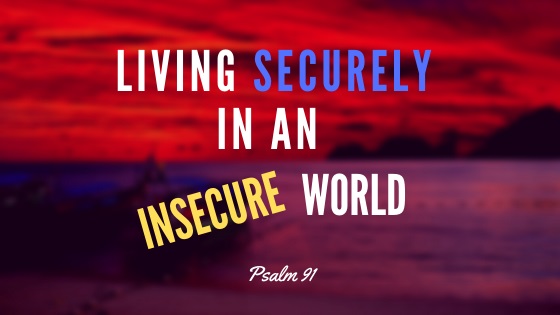 I think you'll agree there's an awful lot of insecurity in our world.  Internationally, there is news of war and rumours of war, financial instability as major world currencies fluctuate wildly against each other, and growing concern about the effects of climate change.    Nationally, we live with political uncertainty as we await the full effects of Brexit and anticipate the possibility of IndyRef2 in Scotland.  And for many people personally, insecurity might take the form of concerns about employment (or lack of it), finances, illness, or relational difficulties, to name just a few.
And, as if all that isn't enough to cause insecurity, we now have COVID-19 sweeping across the world. How many cases will there be?  How many fatalities?  How long will the pandemic last? Nobody knows for sure.
So, in light of all these things, is it possible to live securely?  I suggest it is.  That's why, over the next few weeks, I plan to write a series of blog posts on the topic, "Living Securely in an Insecure World", based on Psalm 91.
To kick-start the series, you might want to read Psalm 91 for yourself.  Here it is…
Psalm 91 (NIV)
1 Whoever dwells in the shelter of the Most High
    will rest in the shadow of the Almighty.
2 I will say of the Lord, 'He is my refuge and my fortress,
    my God, in whom I trust.' 
3 Surely he will save you
    from the fowler's snare
    and from the deadly pestilence.
4 He will cover you with his feathers,
    and under his wings you will find refuge;
    his faithfulness will be your shield and rampart.
5 You will not fear the terror of night,
    nor the arrow that flies by day,
6 nor the pestilence that stalks in the darkness,
    nor the plague that destroys at midday.
7 A thousand may fall at your side,
    ten thousand at your right hand,
    but it will not come near you.
8 You will only observe with your eyes
    and see the punishment of the wicked.
9 If you say, 'The Lord is my refuge,'
    and you make the Most High your dwelling,
10 no harm will overtake you,
    no disaster will come near your tent.
11 For he will command his angels concerning you
    to guard you in all your ways;
12 they will lift you up in their hands,
    so that you will not strike your foot against a stone.
13 You will tread on the lion and the cobra;
    you will trample the great lion and the serpent.
14 'Because he loves me,' says the Lord, 'I will rescue him;
    I will protect him, for he acknowledges my name.
15 He will call on me, and I will answer him;
    I will be with him in trouble,
    I will deliver him and honour him.
16 With long life I will satisfy him
    and show him my salvation.'