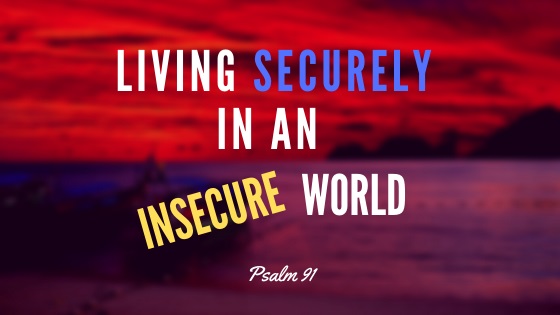 Following on from the previous blog post…
Psalm 91:2 is one of several verses in the Old Testament that tells us God is the believer's refuge, their place of safety.  But it also tells us He is their fortress, their place of security.  One of the best-known fortresses in the world is Fort Knox in Kentucky, USA, which houses an unspecified amount of the country's gold reserves.  Apparently, security there involves digital and visual surveillance; a military presence; layers of concrete and steel barriers; and a safe that even atomic bombs can't destroy.  Is this secure, or what?  Like all fortresses, Fort Knox is designed to keep out anything and everything that would harm what's inside.  God, as the believer's fortress, is no exception.  As we reside and abide in Him we are secure because he keeps out all that would bring us everlasting harm.
The writer of Psalm 91 talks about "my refuge" and "my fortress".  He also makes reference to "my God".  It's interesting to note the word for "God" in this section of verse 2 is Elohim, the powerful God who is greater and more glorious than we could ever imagine.  And this is the One whose safety enfolds us and whose security surrounds us.
What, then, should be our response?  Verse 2: "I will say of the Lord, 'He is my refuge and my fortress, my God, in whom I trust.'"  To trust someone means to depend on them, to rely on them, to have confidence in them.  Sometimes people break our trust and let us down.  But we can't say this of God.  There are many times when we don't understand why He plans or permits certain things to happen in our lives, but He can always be trusted.  Psalm 145:13 says, "The Lord is trustworthy in all he promises and faithful in all he does" (NIV).  He is never inconsistent but is always true to His character.  No-one can be trusted as much as He can.
Why not take some time now to read again the first two verses of Psalm 91?  You might even find it helps to commit them to memory.  You can then bring them to mind and use them to quash any fear or panic that threatens to overwhelm you.