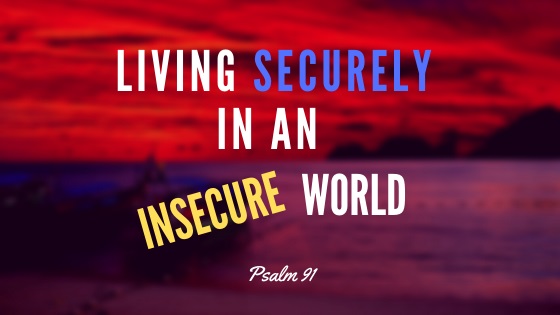 In recent blog posts, I've been dealing with the theme, "Living Securely in an Insecure World" focusing on Psalm 91.  This is particularly relevant at the present time of international uncertainty where our day-to-day routine has become more restricted and erratic as a result of the coronavirus pandemic.  So far, I've considered the first verse of Psalm 91 which crystallise for us the realities of shelter, solitude and shadow as we live in God's presence.  The Psalm continues in verse 2 with God being our refuge and fortress.
"I will say of the Lord, 'He is my refuge and my fortress, my God, in whom I trust.'" 
You know, lots of people are having their say in today's world.  Politicians, celebrities, campaigners, bloggers.  There are numerous voices out there all wanting to be heard and heeded.  And in the midst of all the noise, I believe there's a great need for the people of God to speak about the One who is called here "the LORD", also known as Yahweh or Jehovah, meaning the eternal God who keeps His promises.  Wow!  What a privilege to speak of a God like this and to tell others about what He means to us.  Using the psalmist's words, we can say "He is my refuge and my fortress."  My refuge because he's my place of safety where I am protected; and my fortress because he's my place of security where I am shielded from danger.  And when we tell others of our personal experience of God as our safe place and our secure place, who knows what eternally significant impact this might have for them?
In the Old Testament book of Exodus, we read of "cities of refuge" where people could claim asylum if they had unintentionally killed someone.  If they didn't flee to a city of refuge, they were in danger of being killed by a member of the victim's family who wanted to avenge their loved one's death.  All very interesting, you might think, but what has this got to do with us?
The cities of refuge point us to the God-man, Jesus Christ.  Just as the cities of refuge accepted all who fled to them for safety, He is the one who provides safety for all who come to Him for refuge from sin and its punishment.  Have you come to Him?  If you haven't, what's holding you back?