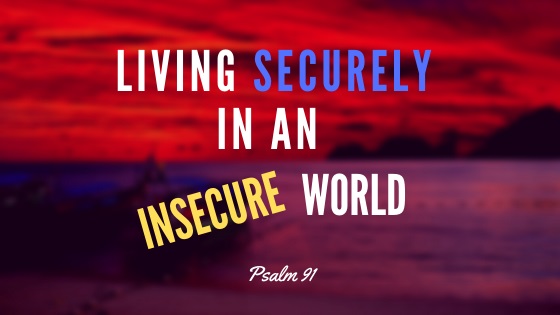 "Don't live in someone's shadow; you'll just be stuck in the dark", so writes Jillian Rowe.  And Sarah Silverman says, "If you feel you're living in someone's shadow, you should move."  These comments might be applicable to some of our relationships with other people but, when it comes to our relationship with God, Psalm 91 puts forward a different viewpoint altogether.  Verse 1 says, "Whoever dwells in the shelter of the Most High will rest in the shadow of the Almighty" (NIV).   
But who are those people that rest or abide in the shadow of the Almighty?  The first part of verse 1 gives the answer: "Whoever dwells in the shelter of the Most High…"  Think about it like this…  You're tired out and all you want to do is have a good rest, so you stretch out on your sofa and go to sleep.  You're perfectly entitled to do this because you're at home, the place where you dwell or live.  But it probably would never even enter your mind to knock on your neighbour's door and sprawl onto their sofa for a kip – because you don't live there!  Living somewhere gives you certain privileges.  So, resting in the shadow of the Almighty is a privilege given to those who are already dwelling in the shelter of the Most High, those who make it a priority to get alone with God and enjoy deep communion with Him.
In verse 1, the word "shadow" implies nearness.  Anyone whose shadow falls on us has to be very close.  So, when we dwell in the shelter of the Most High, God is near to us and we're near to Him.  Also, a shadow gives protection.  James and I have visited the Canary Islands in the height of summer and, not surprisingly, we had a good deal of sunshine.  It was great walking around in temperatures that we rarely get in England.  But, sometimes it would get uncomfortably hot and that's when we would go looking for some serious shade.  And anything that cast a shadow – a tree, a building, a stationary bus – any of these would give us protection from the heat.
The author of Psalm 91 was writing to people who knew all about heat and the protection that a shadow would give them.  So, when they read or heard about resting or abiding in the shadow of the Almighty, they knew this referred to nearness and protection that was constant and all-sufficient.  Constant, because this verse talks about rest that is ongoing; and all-sufficient, because of whose shadow they are abiding in.  It is the shadow of the Almighty.  This is another name that the psalmist uses for God.  In the original language the name conveys the idea of an all-sufficient God who is completely adequate for every situation – including what's happening right now.  What an amazing God!  Why would we not want to dwell in His shelter and rest in His shadow?