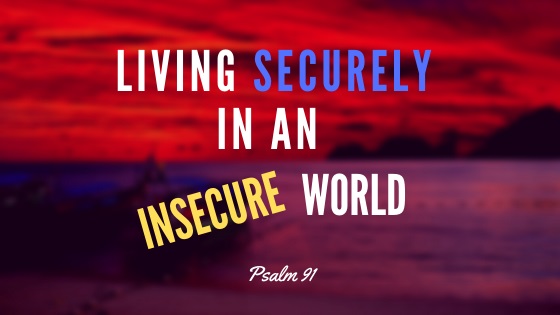 In my previous blog post, I mentioned "the shelter of the Most High" from verse 1 of Psalm 91, referred to in some bible versions as "the secret place."  But what actually is this shelter or secret place?  Well, it's not a physical location, but that deep part of our relationship and commitment to God that nobody else sees.
Let me ask you something…  Do you regularly spend time in that secret place where it's only you and God?  Or do you generally meet with God only when other people are around, for example, in church?  While joining with others to worship God is very important, and in normal circumstances we shouldn't let this slip, Psalm 91 reminds us of the importance of giving priority to being alone with God.  Author Warren Wiersbe, says this: "The most important part of a believer's life is the part that only God sees."  He continues: "This hidden life of worship and communion makes possible the public life of obedience and service."
This is what the ancient monastic Christians – in the first millennium after Christ – referred to as "the cell and the coracle".  The "cell" was the place where they met alone with God to worship Him, talk to Him, and listen to Him.  This was where they got to know God and also got to know themselves.  In contrast to the cell was the "coracle".  This was a little boat that these believers of old travelled in as they went out into the world, crossing from Ireland to either Scotland or the north of England.  This was their public life of obedience and service because people needed to hear their Christian message and observe their godly lifestyle.  Many of these ancient believers, these Celtic Christians, knew they couldn't stay forever in the "cell", in that place of intimate communion with God, but they needed to go into the "coracle" as they went out into their world, preaching the gospel.  But they didn't dare do this until they had developed the habit of spending time in the secret place, hidden from the view of others, living in the shelter of the Most High.
What about us?  We live in a very busy, noisy world where we have lots of responsibilities and lots of things that demand our attention.  It's tempting to skip quality time alone with God when there are so many things to attend to and so little time in which to do them.  Martin Luther was a German monk and religious reformer who lived in the 15th and 16th centuries.  Talking of busyness, he said this, "I have so much to do that I will spend the first three hours in prayer."  Luther knew that it was in the secret place, in the shelter of God Himself, that he would receive all that he needed to go about his work efficiently and effectively.
Let's ask ourselves, "Am I dwelling (remaining, staying, making my home) in the shelter of the Most High (that secret place where, unseen by others, I worship, talk and listen to the One who is higher than any other)?  This may be a particular challenge for many of us who are presently confined to our homes as a result of the ongoing coronavirus situation.  How about we intentionally find a private space and carve out a portion of each day when we can be alone with God?